Services
Puppy Home Visits
Wagz 2 Whiskers puppy visiting service can help if you need to leave your buddle of joy during the day. I can come along to attend to your pup's important needs whilst brightening up his day with some loving company. Before your pup is ready to 'graduate' and join a small group walk, I can help you with training during our solo walks and the very important task of socialising.
In addition to many years of experience, I have Diplomas in Puppy Training and Canine Behaviour. Positive socialisation and positive reward-based training will help equip your pup with the necessary skills to mature into a well-balanced dog and help prevent unwanted behaviour problems. Please see my pet care page here with advice on how you can prevent a common behaviour problem, separation anxiety.
Dog Walking
Small group walks (maximum of 3) are 1 hour long and are aimed to break up their day and provide fun and fitness to help you keep your dog physically & mentally healthy. More details on the great benefits of exercise are on my pet care page here . The group is no more than 3 to enable your dog to have a fun time socialising without compromising on quality fuss & attention from me.
I prefer off-leash walks as much as possible to encourage a good run around, in a variety of locations in our beautiful countryside, such as the Welcome Hills & Clopton Reserve, Racecourse meadows, Bearley, Shottery and The Rec, where there will be plenty of new stimuli for your dog to explore and enjoy.
I have many years of experience and my Diplomas in Puppy Training and Canine Behaviour have given be a better understanding of their learning, development and behaviour.
Please see my Gallery here to see some of our typical walks.
Senior Dogs
I also provide more sedate individual walks for senior dogs needing a stroll to help maintain their weight & fitness and to help loosen up stiff joints. They may no longer have the energy for a group walk but they still enjoy having some fuss made of them and being outside with all the sights, smells and interactions that help keep them stimulated and happy.
Here are a few of my furry friends having a fun time: -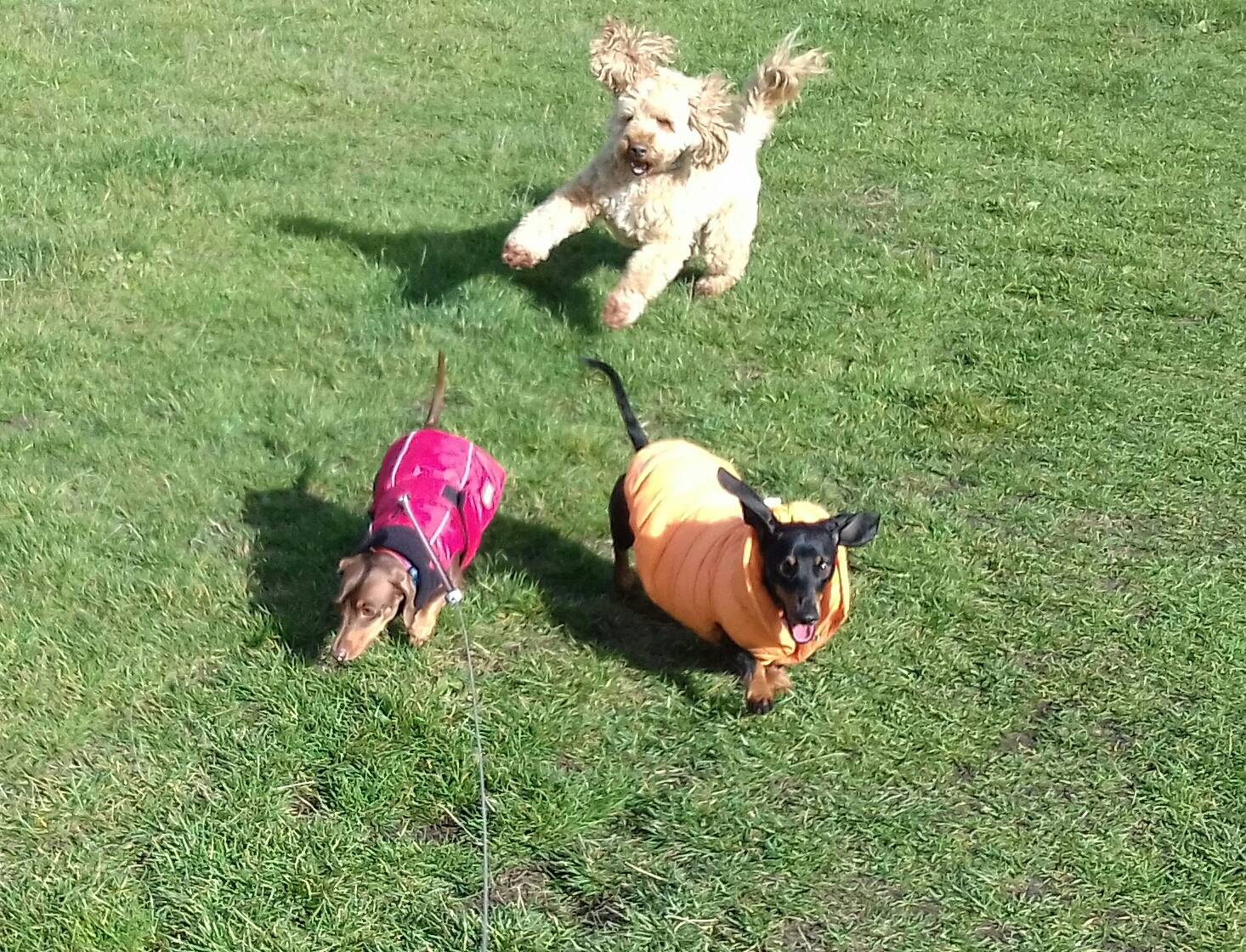 "Fancy a game of chase? Press your paw below, start barking and get your human to contact aunty Linda!"
Cats Feed & Fuss Home Visits
Cats are much happier in their own environment and prefer their familiar routines (please see my pet care page here). Let me help remove the stress of your cat having to stay in a cattery or the need for you to impose on family or friends.
If you're planning a short break or holiday, I can visit your cat at your home whilst you're away and maintain their feeding routine. I will clean their bowls each visit, provide fresh food and water and clean their litter tray. I enjoy spending time with cats and will gladly play with them and give them some reassuring TLC and fuss before I leave. Please note that standard visits are about 20 mins each so please let me know if you require longer visits.
I can also help by tidying your post and watering your plants. Just let me know what you need when I come to visit you before you go.
Small Furries
Wagz 2 Whiskers pet care service also caters for small pets such as guinea pigs and rabbits. I can help by ensuring they have fresh food and water each day and by keeping their hutch clean and comfortable.
Prices*
Small group walkies (l hour walk) £14
Additional family dog £7
Individual walks from £12
Puppy visits from £12
Cats, chickens & small furries visits from £10
Key collection for cat visits £3
Cuddles, treats and poop bags are free!
Water plants - usually free unless your request is particularly time consuming.
Special offers
Discount for regular 5-day week bookings.
Please see my FAQs and Reviews page here and please don't hesitate to get in touch with Linda to discuss any of the above services or a more tailored service. We can then arrange a convenient time for me to visit you and your pet to discuss your needs and to complete a short registration form. I will bring along my insurance details and police checks for added peace of mind.